✅
54 High-Intensity LED Lighting
✅Protective Sleek Easy On/Off Design
✅All Buttons Are Easily Accessible

The Phone Case That Broke The Internet!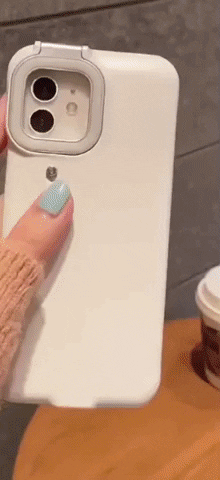 Raking in millions of views, the Elebrilliant™ Light Up iPhone Case is rapidly becoming the must-have phone case of the year! With our case's built-in premium ring light technology, you'll not only get the best quality aesthetic that lighting can offer for your front cam but your back camera as well. Now you can shoot incredible content for TikTok, Instagram, and Snapchat like never before!
We're so confident you'll love our Elebrilliant™ Light Up iPhone Case that we'll even let you try it risk-free for 30 days guaranteed.
How Does It Work?

It's as simple as 1, 2, 3. Attach the case to your device, plug it into the charging port of your device, and press the power button to choose from 3 lighting settings. Then enjoy an array of complimentary lighting for the perfect picture. (Don't worry it takes minimum battery life)
All The Fancy Equipment In A Single Phone Case

An entire setup can cost upwards of $600, not to mention the hassle of setting everything up and putting it away. Elebrilliant™ Light Up iPhone Case is equipped with the latest ring light technology so you can take professional-quality videos and photos straight from your phone. Literally, use it anytime & anywhere!
"I Absolutely Need This!"
The easy take-off, put-on design and a marvelous illumination from 54 high-intensity LED lights positioned at the best angle from your camera... You can say this is the case you've all been waiting for.
Unlike Other Phone Cases, You'll Want To Leave This One On
Unlike other bulky, inconvenient ring lights, the Elebrilliant™ Light Up iPhone Case is completely wireless with a slim build for maximum convenience and portability. Simply attach the case, plug in the wireless-power chip, and pair the two. The case will draw power directly from your phone battery but resourcefully. Take as many photos as you wish although we can guarantee you will get the perfect one on the first try every time!